Press
June 2021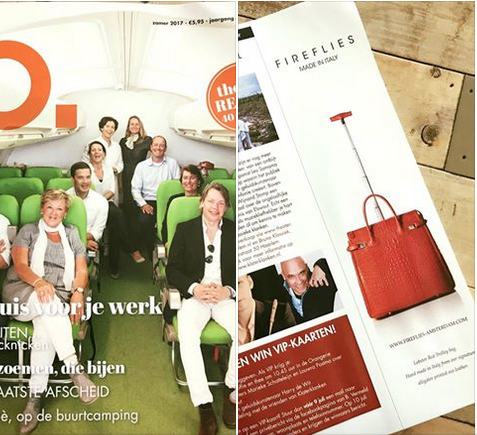 IT'S ALL ABOUT TRAVELING LIFE....
October 2016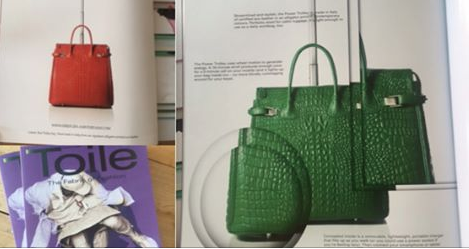 TOILE MAGAZINE: THE FUTURE IN FASHION IS NOW
Frame Magazine, the world's leading interior-design publication, has a new family member as of now! Toile Magazine dissects how innovation occurs within the fashion system and the function of technology in pushing it forward - talking about beauty, luxury brands, new talent on the block, all! Fireflies Amsterdam is extremely proud to be part of this new magazine, that fits our DNA like a glove, with our Powertrolley. Check out this unprecedented magazine at your (inter)national bookshop!
March 2016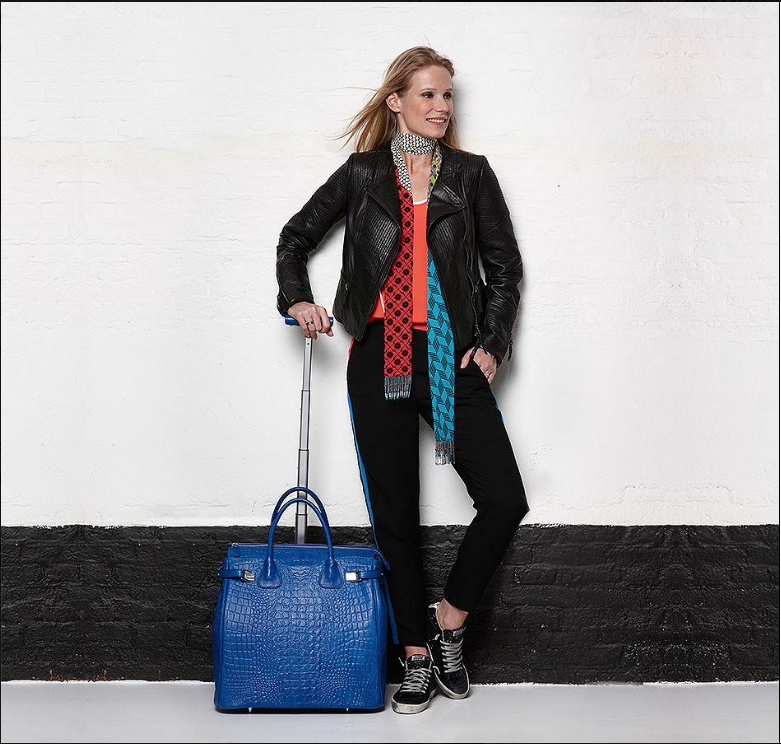 SPRING IS IN THE AIR!
SARTORIA Fashion presents their new collection. Among DENHAM The Jeanmaker, ETRO Official, Golden Goose Deluxe Brand, Marie-Stella-Maris, Patrizia Pepe, Tod's, J_Brand, Fireflies Amsterdam is a great lifestyle companion!
February 2016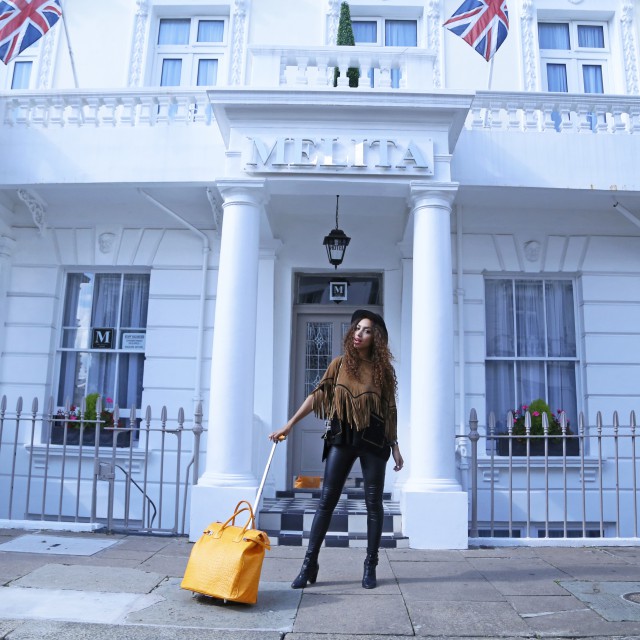 BLOGGING AWAY....
They travel life in style, and style their lives incredibly! To highlight one of our favorites: Larissa FROM HATS TO HEELS! Want to learn more about this true lifestyle blogger, besides her gorgeous looks? http://www.fromhatstoheels.com/fireflies-trolley-traveling…/
January 2016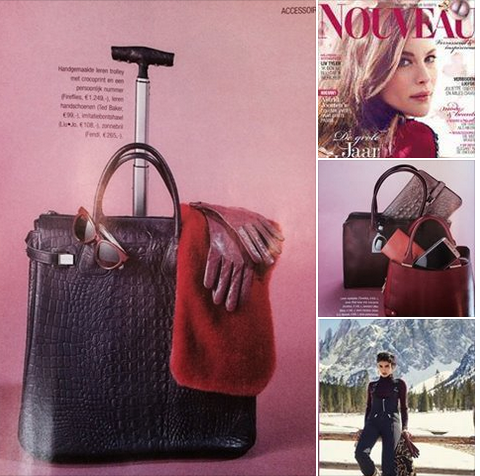 A HAPPY NOUVEAU YEAR!
Happy 2016 to everyone from the FIREFLIES team! Glowing in the Dutch luxury magazine NOUVEAU, the year has a flying start!
December 2015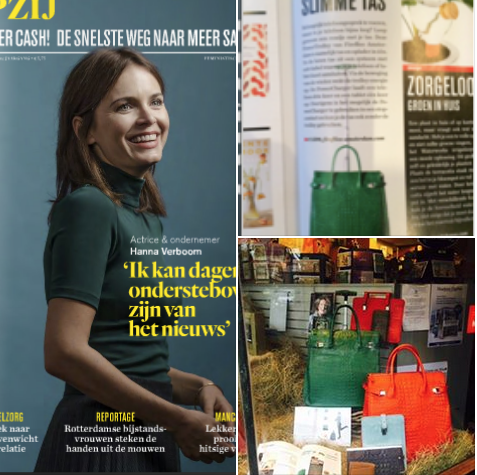 POWER TROLLEY IN THE MEDIA
Our FIREFLIES PowerTrolley is getting its share of attention! This month in Opzij Redactie's december edition, supported by Primera Overveen, next month in Nouveau!
October 2015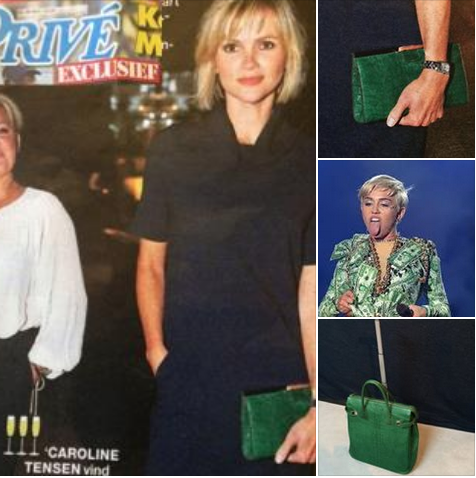 MILEY CYRUS & TOOSKE RAGAS
What do they have in common besides being gorgeous? They love their Midsummer Green FIREFLIES friends as spotted by the media.... You go girls! ;-)o
September 2015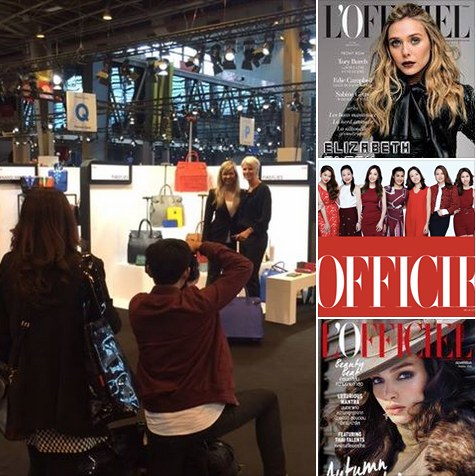 L'OFFICIEL – IT'S OFFICIAL!
The French fashion magazine L'Officiel de la Mode is hunting for hot innovations at the Paris fashion fair Premiere Classe. FIREFLIES is the target, also for their Asian edition!
July 2015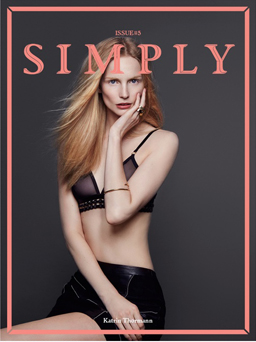 SIMPLY THE MAG: SPAIN HERE WE COME!
The stunning Spanish magazine SIMPLY THE MAG is on fire with the FIREFLIES Smoking Hot Beige bag....! Feels like magic among ESCADA, Dior, Yves Saint Laurent. We simply stay FIREFLIES.... But Vogue and Harper's Bazaar, watch this hot publication! Soon @ Harrods, Selfridges, Nordstrom, Neiman Marcus, Barneys New York, Saks Fifth Avenue
June 2015
PRESSRELEASE: FIREFLIES FAIR & FASHIONABLE ENERGY BY WHEEL MOTION!
FIREFLIES Amsterdam today launches the PowerTrolley, which generates energy by wheel motion. The FIREFLIES PowerTrolley is clearly a family member of the existing stylish fair & functional FIREFLIES collection.
"We continue to work with our certified eco leather which characterizes our unique bags. The FIREFLIES PowerTrolley adds to the sustainability equation by inducing energy via wheel motion. So while you are traveling for business or for pleasure, you can charge your phone and use the light inside your bag", explain Jessica Roozen and Carissa Sorko, co-founders and owners of FIREFLIES.
The FIREFLIES PowerTrolley is a hand luggage bag with a built-in lightweight portable PowerCharger, which fills up while walking. A fully-charged PowerCharger puts up many hours of instant power at your finger tips and will let you charge your phone up to 3 times and/or your tablet once via a USB port. It lights up your bag endless times as it automatically switches off.
"A 10 minute walk is a 5 minute phone call on average. Especially handy when running out of juice while you need to make this important call. Just start walking to fill up your PowerCharger!"
The PowerCharger can additionally be charged by wall socket.
FIREFLIES PowerTrolley • Hand luggage proof! • Certified eco leather • Connect your devices with your own USB cable • The full PowerCharger charges your mobile phone up to three and/or your tablet one time • Battery type: Li-Ion for long life and safety • Battery capacity: 4400mAh • USB Input (DC) 5V/USB Output (DC) 5V • The PowerCharger battery can easily be removed • Option of charging PowerCharger via socket
For further information and high res images, please contact our Marketing Department at info@fireflies-amsterdam.com
June 2015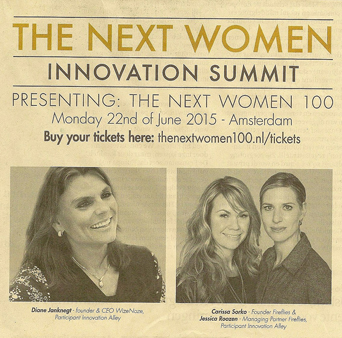 NEXTWOMEN 2015 FEATURED BY DUTCH FINANCIAL NEWSPAPER FD
The enterpreneur platform THE NEXTWOMEN will announce its TOP100 female entrepreneurs at their annual summit on 22 June 2015. Focus is on innovation. FIREFLIES will reveal its PowerTrolley, which generates energy by wheel motion! www.thenextwomen100.nl
May 2015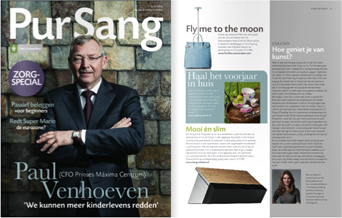 PURSANG IN ICEBERG BLUE....
Dutch bank Van Lanschot's stylish magazine PurSang got hotter than ever in Iceberg Blue....The issue beautifully covers the theme 'care' in the broadest possible sense. As such, please keep the blood pressure down while flying to the moon! www.vanlanschot.nl/pursang
Spring 2015
IMAGE CONSULTANT, STYLIST, PERSONAL SHOPPER FOCUS LIST!
KLEUR & STIJL, the specialist magazine for image consultants, stylists and personal shopper, features FIREFLIES in its Spring edition. In return we love your bold statement colours for S/S2015! www.vakbladkleurenstijl.nl
December 2014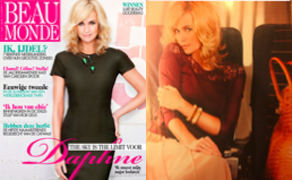 BEAUMONDE FEATURES HIGH FLYER DAPHNE DECKERS
Fred van Leer styled woman of the world Daphne Deckers, Dutch high flyer in Beau Monde's November / December edition. Special thanks to Mostert & Van Leeuwen and Azzurro Fashion Group Amsterdam, for providing Fred with the most stylish travel companion for Daphne: the Caramel Fudge FIREFLIES trolley bag. Fred you are right, it deserves its own seat! www.beaumonde.nl
November 2014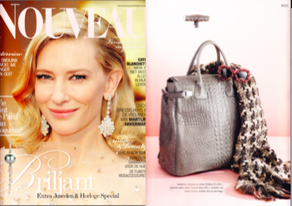 NOVEMBER'S NOUVEAU IS ALL ABOUT BRILLIANCE
The November edition of Nouveau is all about lifestyle, travel delight and adventure. From the streets of New York to the East Caribbean, Nouveau shows you how to maximize your travel experience with FIREFLIES amongst others! www.nouveau.nl
November 2014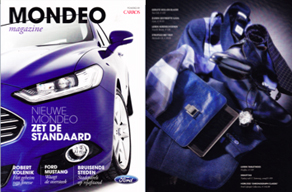 MONDEO EDITION POWERED BY CARROS
This month's Mondeo Magazine is having the blues, but in a positive way! Check out the editor's pick for the metro man of today; it's all about blue baby! The perfect company for our Royal Blue iPad cover!
October 2014
August 2014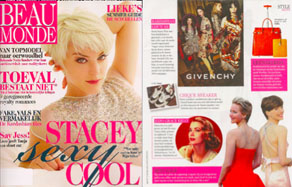 BEAUMONDE TRAVELS ECO STYLE
Patty Zomer highlights the sophisticated and stylish FIREFLIES travel bags in her column in the August edition of Beaumonde
July 2014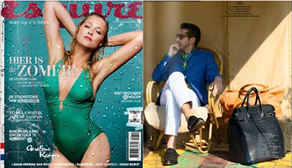 ESQUIRE KNOWS HOW TO TRAVEL IN STYLE WITH FIREFLIES
Danny Vera knows how to travel in style in this month's edition of Esquire with the enticing Geraldine Kemper on the cover.
June 2014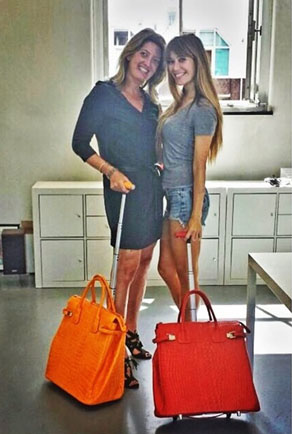 FIREFLIES AS SEEN IN SOCIAL MEDIA!
Beertje van Beers and Karin Dijksman from Dijksman Communicatie are fan!
June 2014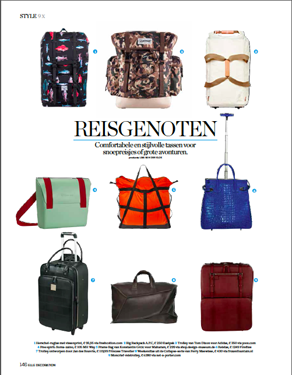 ELLE DECORATION SELECTS THE PERFECT TRAVEL COMPANION FOR THE SUMMER HOLIDAYS
ELLE DECORATION puts our bags out for your summer holiday!
April 2014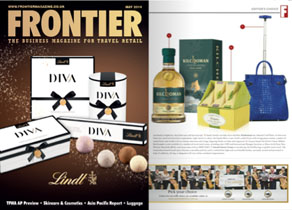 FIREFLIES FLIES OUT IN THE MEDIA!
Taking the next step in our journey: presenting our FIREFLIES Travel Collection to the media! The collection not just to travel with, but also to use in your professional life or just when carrying all is not an option. Check out our first media flights as Editor's Pick in the world renowned duty free Frontier Magazine and on Instagram. Thanks Karin, Vivian and Floor of Dijksman Communicatie, for the perfect kick off!