News
November 2021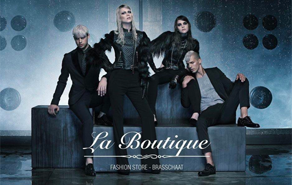 HAPPY HOLIDAYS COMING UP!
June 2021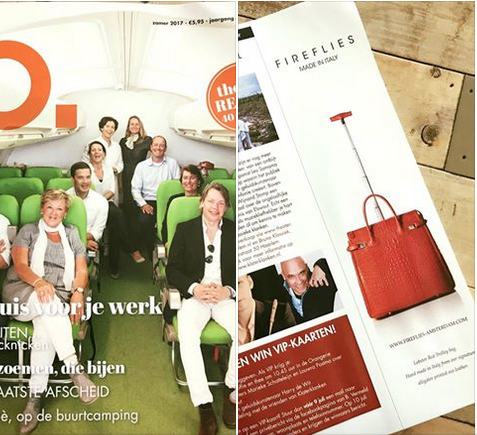 IT'S ALL ABOUT TRAVELING LIFE....
May 2020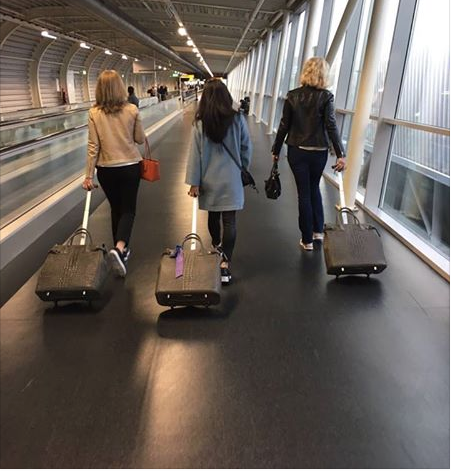 IT'S ALL ABOUT BEING IN GOOD COMPANY....
February 2019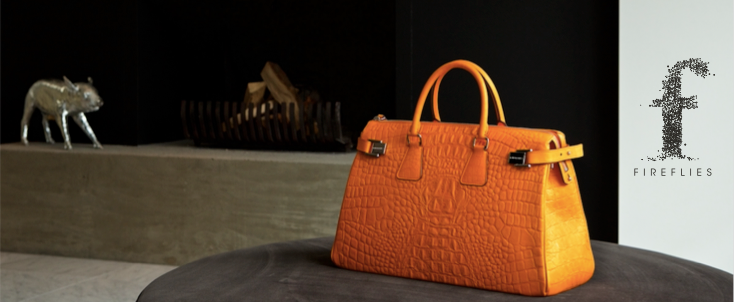 FIREFLIES HANDBAGS ARE HERE TO STAY!
Exciting photoshoot for our new handbags! Mesmerising and intruiging! A big thanks to photographer Jelle Rietveld, M&OTTO Design and DJM Design+Project for your energy and your support!
www.jjrietveld.com
www.m-and-otto.com
December 2018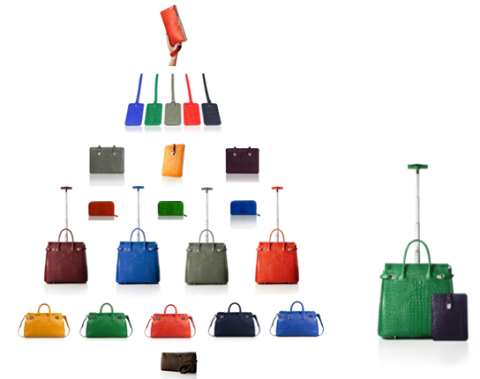 HAPPY 2019!
December 2017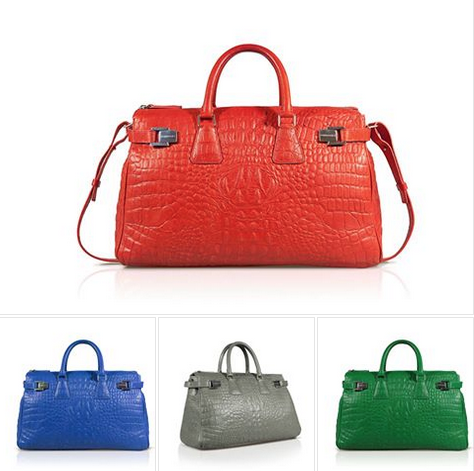 HAPPY HANDBAGS!
And finally....they're there! Whether you like cross-body, on your shoulder, on your arm or to simply carry by hand....this multi-purpose bag fits you! Check out further colours....
October 2016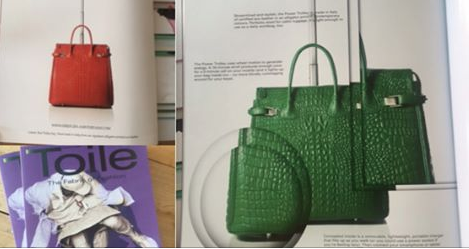 TOILE MAGAZINE: THE FUTURE IN FASHION IS NOW
Frame Magazine, the world's leading interior-design publication, has a new family member as of now! Toile Magazine dissects how innovation occurs within the fashion system and the function of technology in pushing it forward - talking about beauty, luxury brands, new talent on the block, all! Fireflies Amsterdam is extremely proud to be part of this new magazine, that fits our DNA like a glove, with our Powertrolley. Check out this unprecedented magazine at your (inter)national bookshop!
July 2016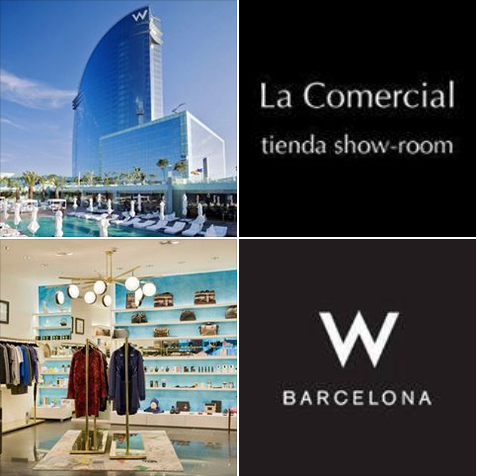 BARCELONA: W HOTEL & LA COMERCIAL
The ultimate lifestyle: Trendy W Barcelona Hotel where you shop at the luxury boutique La Comercial Barcelona! It's all possible, and FIREFLIES joins you there as of today! Also check out the other stunning locations of La Comercial in Barcelona....
June 2016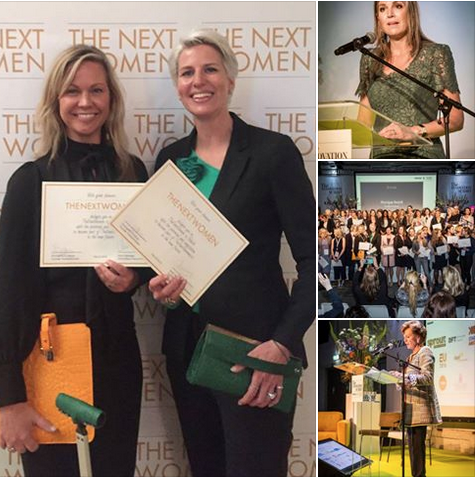 FOUNDERS AWARDED @ The NextWomen!
FIREFLIES founders Jessica Roozen and Carissa Sorko were elected THE NEXT WOMEN TO WATCH as part of TheNextWomen100 Summit, the 100 most successful Dutch female entrepreneurs, in the presence of Queen Maxima, Neelie Kroes and many more inspirational entrepreneurial leaders. Watch TheNextSteps....!
May 2016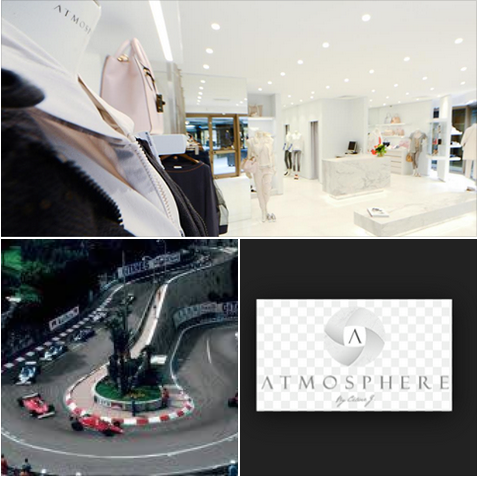 MONACO: VERSTAPPEN & FIREFLIES!
Both made in Holland, Max Verstappen and FIREFLIES go to Monaco! Max to pick up a price at Monaco Grand Prix and he'll be on his way, FIREFLIES is here to stay! At Atmosphere Monaco, the gorgeous luxury boutique in town! www.atmosphere-montecarlo.com
March 2016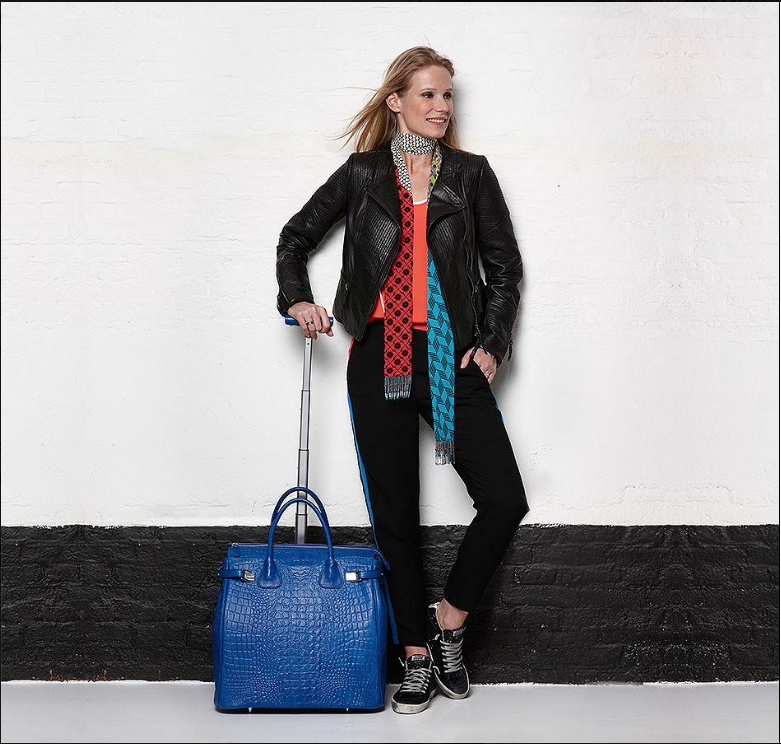 SPRING IS IN THE AIR!
SARTORIA Fashion presents their new collection. Among DENHAM The Jeanmaker, ETRO Official, Golden Goose Deluxe Brand, Marie-Stella-Maris, Patrizia Pepe, Tod's, J_Brand, Fireflies Amsterdam is a great lifestyle companion!
February 2016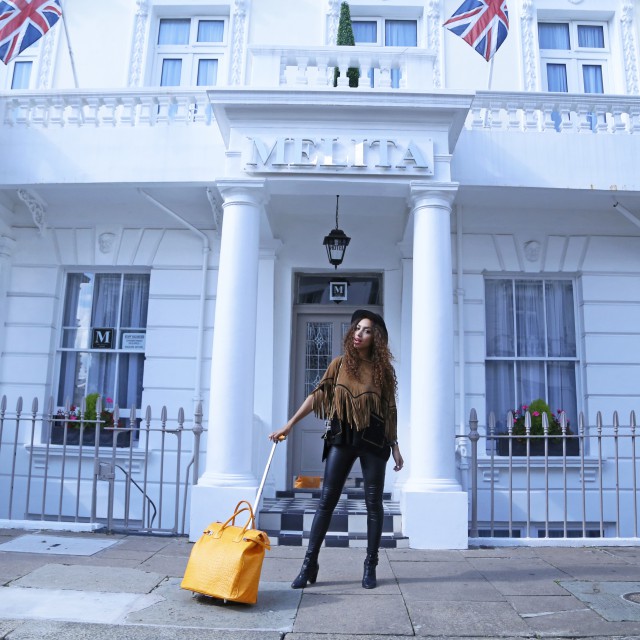 BLOGGING AWAY....
They travel life in style, and style their lives incredibly! To highlight one of our favorites: Larissa FROM HATS TO HEELS! Want to learn more about this true lifestyle blogger, besides her gorgeous looks? http://www.fromhatstoheels.com/fireflies-trolley-traveling…/
January 2016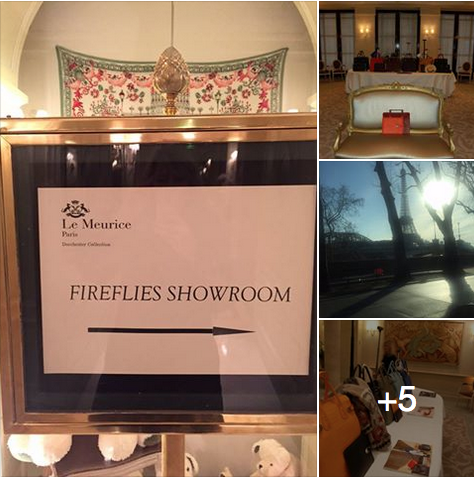 GOODBYE PARIS FASHION WEEK!
Au revoir to our clients, our showroom at the beautiful hotel Le Meurice opposite the Tuileries Gardens, to the precious moments, lovely food and people. A bientôt!
January 2016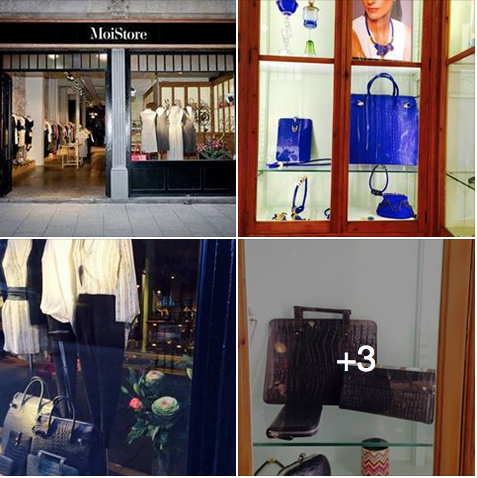 BARCA IN THE AIR!
MoiStore, one of Barcelona's most beautiful luxury stores, has added FIREFLIES to their collection! Don't miss this former paper mill transformed to shopping gem!
January 2016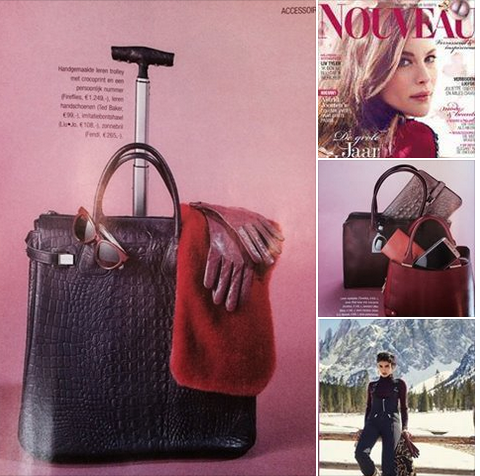 A HAPPY NOUVEAU YEAR!
Happy 2016 to everyone from the FIREFLIES team! Glowing in the Dutch luxury magazine NOUVEAU, the year has a flying start!
December 2015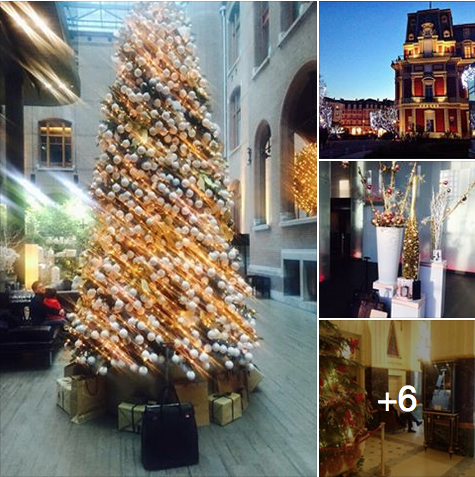 HAPPY HOLIDAYS AROUND THE WORLD!
From all around the world, HAPPY HOLIDAYS, TRAVEL LIFE!
December 2015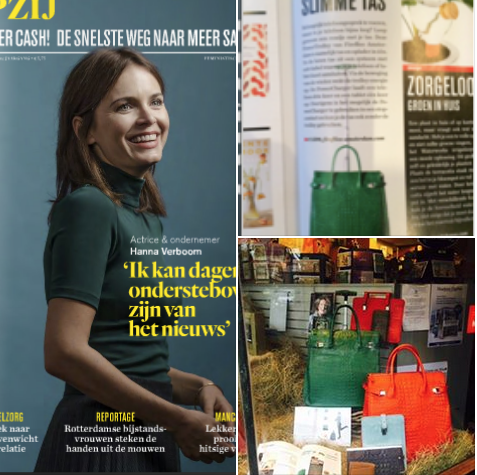 POWER TROLLEY IN THE MEDIA
Our FIREFLIES PowerTrolley is getting its share of attention! This month in Opzij Redactie's december edition, supported by Primera Overveen, next month in Nouveau!
December 2015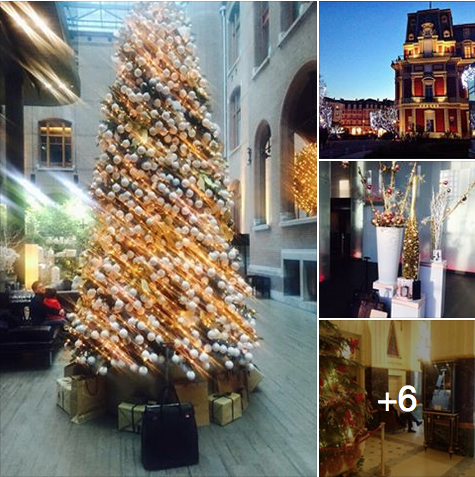 AMSTERDAM FINANCIAL DISTRICT POP UP!
Right in the heart of the Amsterdam financial district, FIREFLIES is tapping into the Christmas spirit with our pop up store at the Symphony Offices. Please check out the #APGSymphonyStaircaseRun for 3FM Serious Request, and win your own FIREFLIES item. Merry Christmas!
December 2015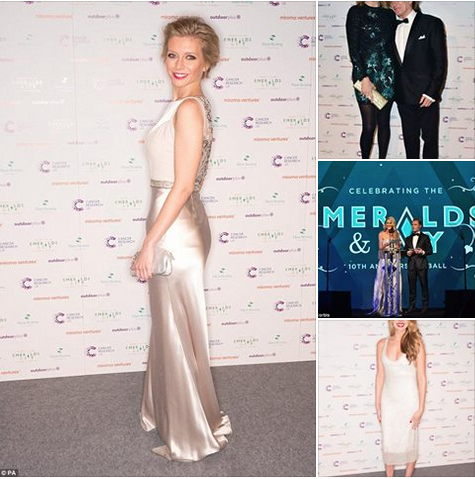 LONDON EMERALDS AND IVY BALL
What do Rachel Riley, Nadine Coyle, Rod Steward and FIREFLIES have in common? They all shined at the Emeralds and Ivy Ball in London to fight cancer last Saturday!
December 2015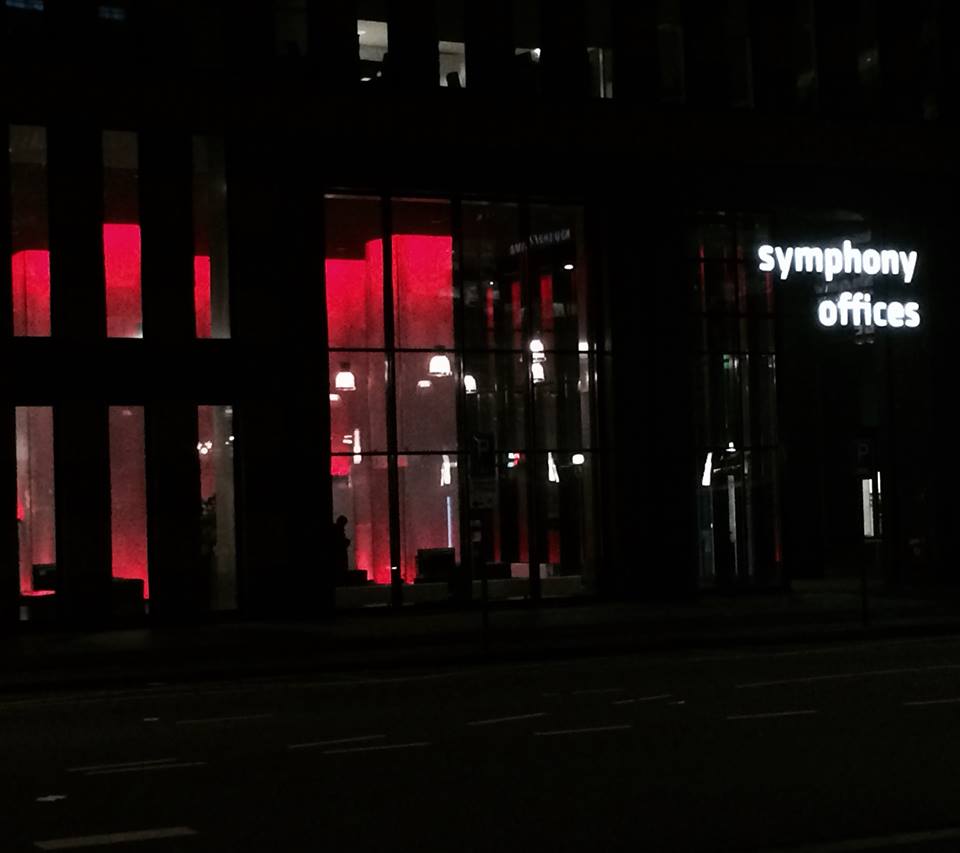 POP-UP AMSTERDAM
We are proud to showcase our FIREFLIES designs at the beautiful Symphony Offices, Zuid-As in Amsterdam on Tuesday December 8th! Enjoy Holiday spirits & special discount!
October 2015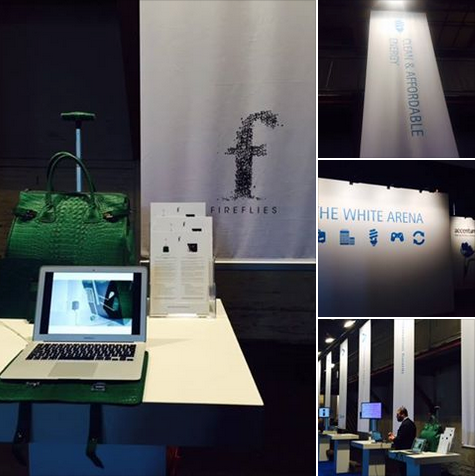 ACCENTURE INNOVATION AWARDS 2015
We are proud to present the FIREFLIES PowerTrolley at the Accenture Innovation Awards at DeFabrique in Utrecht, together with Award Partners such as Tesla Motors, Dell, TEDx and VANMOOF. Get inspired by creative Dutch innovations!
October 2015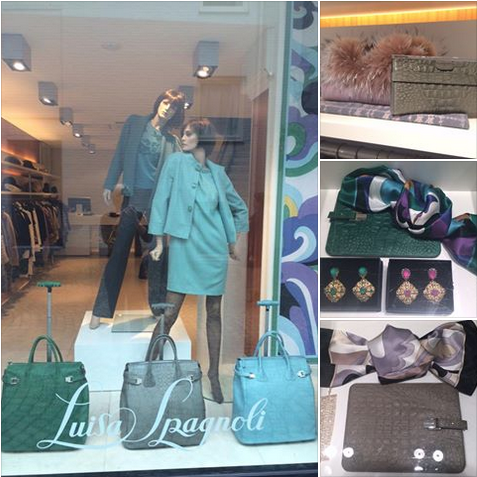 OPENING MAASTRICHT @LUISA SPAGNOLI!
The international city of Maastricht, Netherlands has added another beautiful FIREFLIES salespoint at Luisa Spagnoli Nederland besides the Kruisherenhotel Maastricht. Dutch design meets Italian craftsmanship....the story continues!
October 2015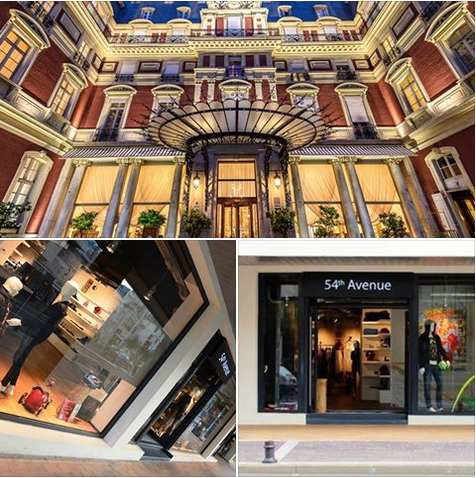 BIARRITZ OPENING!
Please check out FIREFLIES at the beautiful and trendy boutique 54th Avenue and the Hôtel du Palais in Biarritz! Sun, sea, shopping! Vive la France!
October 2015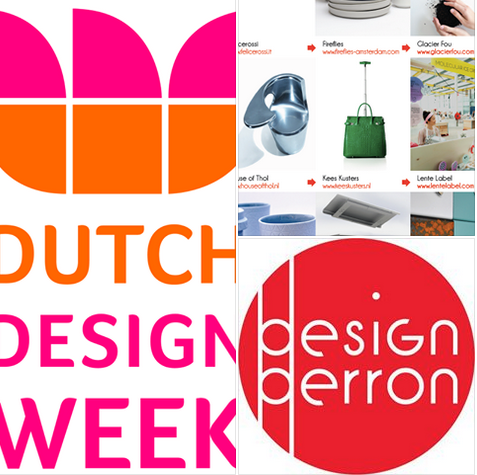 DUTCH DESIGN WEEK BOOMING!
17th through 25th October Dutch Design Week sponsored by ABN AMRO and Volvo is presenting Dutch top designers at Piet Hein Eek, Van Abbemuseum, Evoluon Eindhoven, Inkijkmuseum. Check out FIREFLIES at Design Perron Opvallers offices and front row @Jaspers exclusive fashion. Get amazed and inspired! Listen to Sublime FM for the latest updates!
October 2015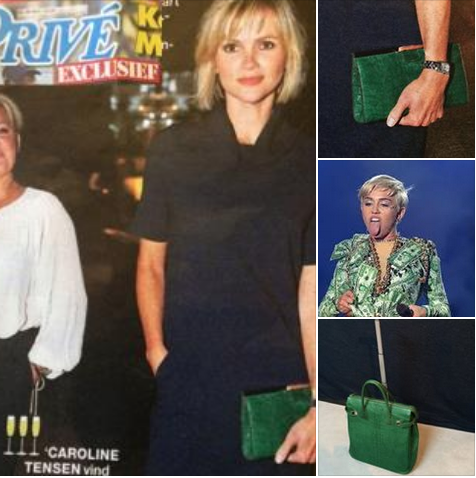 MILEY CYRUS & TOOSKE RAGAS
What do they have in common besides being gorgeous? They love their Midsummer Green FIREFLIES friends as spotted by the media.... You go girls! ;-)o
October 2015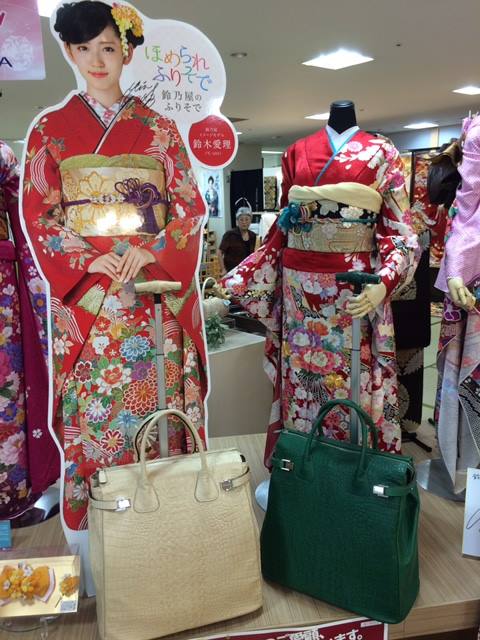 FIREFLIES NOW PART OF THE GINZA ISEYOSHI STORE
FIREFLIES trolleys turn out to be the ideal bag to stow away precious kimonos. And more importantly; make them appear in perfect condition.. Looking for your own piece of Japanse heritage? With rolls of beautiful natural fabrics made of silk and cotton, 銀座いせよし - Ginza Iseyoshi in Ginza, Tokyo is the boutique to purchase your own kimono. Only to travel in a FIREFLIES bag, purchased here as well...
October 2015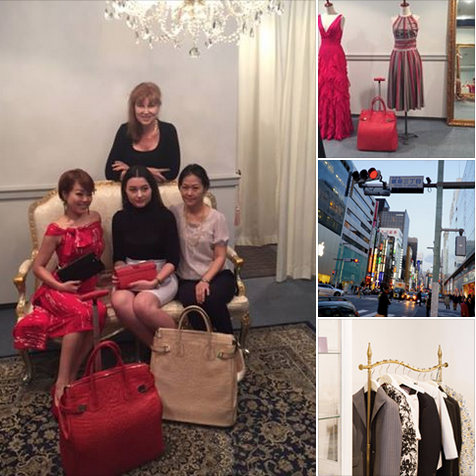 FIREFLIES NOW SOLD AT LILY LAPIS LAZULI-JAPAN
In the centre of Tokyo's shopping heart, Ginza, LilyLapisLazuli's enchanting owner @chika kotajima is fueling the Japanese women's suit revolution with her bespoke business - and evening wear. With the FIREFLIES trolley bags as extension of her lifestyle collection, a perfect match is made!! Thanks to our Japanese FIREFLIES team: Patricia Bader-Johnston, Hiriko Takahashi and Charlotte Moulet!
October 2015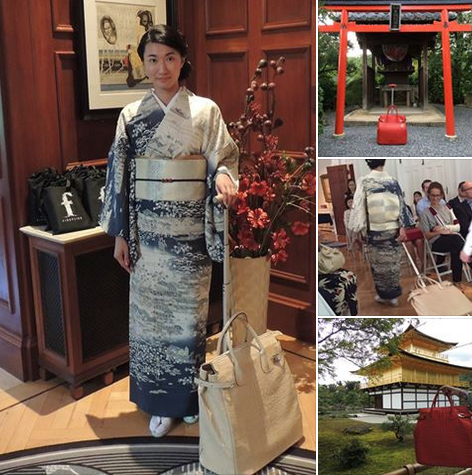 JAPAN WELCOMES HOTARU
The Japanese tour was full of FIREFLIES (HOTARU) loving events, hotels and boutiques. Also on the Embassy runway they match with their beautiful Kimono models. Huge thank you to Suzunoja, the largest Kimono department store, and the Dutch Embassy for making this happen. More on FIREFLIES new Japanese stores to come!
September 2015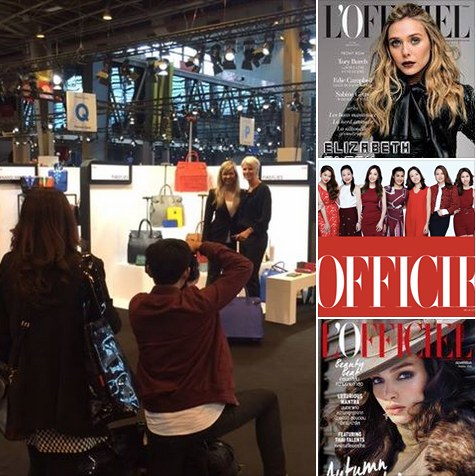 L'OFFICIEL – IT'S OFFICIAL!
The French fashion magazine L'Officiel de la Mode is hunting for hot innovations at the Paris fashion fair Premiere Classe. FIREFLIES is the target, also for their Asian edition!
September 2015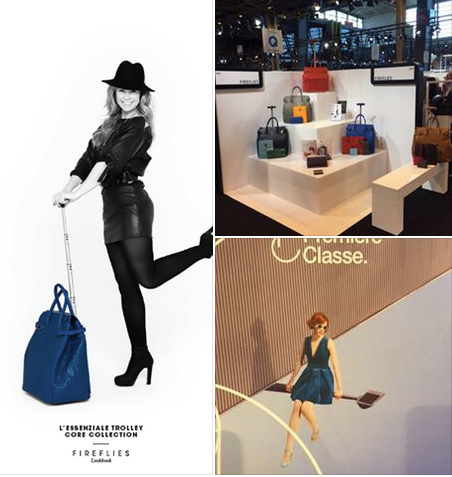 PARIS FASHION PREMIERE CLASSE
Looking for that ultimate butter soft calfskin leather signature printed travel companion/trolley to complete your fashionista-on-the-go look? Look no further and visit us at our FIREFLIES booth at THE Parisian fashion fair Premiere Classe, hall 1R48 From hats to heels, The Blonde Salad by Chiara Ferragni, Vogue, Harper's Bazaar, Harrods, Selfridges, Nordstrom, Barneys New York, Saks Fifth Avenue, Neiman Marcus, simplyprorsum.
August 2015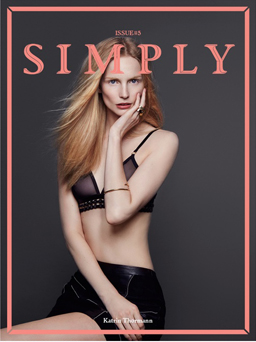 SIMPLY THE MAG: SPAIN HERE WE ARE!
The stunning Spanish magazine SIMPLY THE MAG is on fire with the FIREFLIES Smoking Hot Beige bag....! Feels like magic among ESCADA, Dior, Yves Saint Laurent. We simply stay FIREFLIES.... But Vogue and Harper's Bazaar, watch this hot publication! Soon @ Harrods, Selfridges, Nordstrom, Neiman Marcus, Barneys New York, Saks Fifth Avenue
July 2015
FIREFLIES FAIR & FASHIONABLE ENERGY BY WHEEL MOTION!
The FIREFLIES PowerTrolley is a hand luggage bag with a built-in lightweight portable PowerCharger, which fills up while walking. A fully-charged PowerCharger puts up many hours of instant power at your finger tips and will let you charge your phone up to 3 times and/or your tablet once via a USB port. It lights up your bag endless times as it automatically switches off. "A 10 minute walk is a 5 minute phone call on average. Especially handy when running out of juice while you need to make this important call. Just start walking to fill up your PowerCharger!" The PowerCharger can additionally be charged by wall socket.
June 2015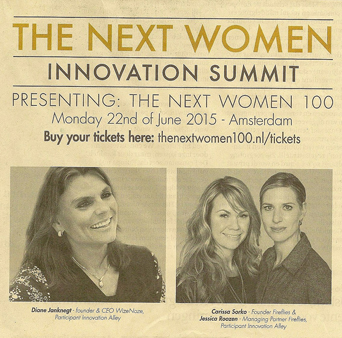 NEXTWOMEN 2015 FEATURED BY DUTCH FINANCIAL NEWSPAPER FD
The enterpreneur platform THE NEXTWOMEN will announce its TOP100 female entrepreneurs at their annual summit on 22 June 2015. Focus is on innovation. FIREFLIES will reveal its PowerTrolley, which generates energy by wheel motion! www.thenextwomen100.nl
June 2015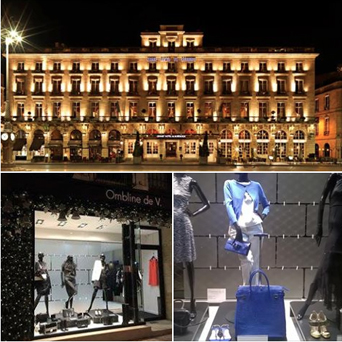 OPENING LA DOUCE FRANCE!
Fashion icon France has been landed! With 2 hot new FIREFLIES locations in Bordeaux: The Grand Hotel de Bordeaux and luxury fashion boutique Ombline de V.! Furthermore, FIREFLIES has been awarded a spot at the most famous fashion tradeshow 'PREMIERE CLASSE' in Paris in September 2015! It's not just superb wine that's being served....
May 2015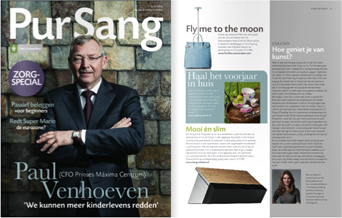 PURSANG IN ICEBERG BLUE....
Dutch bank Van Lanschot's stylish magazine PurSang got hotter than ever in Iceberg Blue....The issue beautifully covers the theme 'care' in the broadest possible sense. As such, please keep the blood pressure down while flying to the moon! www.vanlanschot.nl/pursang
May 2015
MONDAY MORNING BOOST
In the good company of Patrizia Pepe, ETRO and Hogan life always gets a boost! At SARTORIA Fashion, at work or Kingsday Festival. Travel life!
April 2015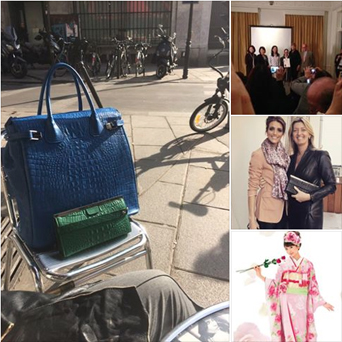 ALL AROUND THE WORLD PART 3
The FIREFLIES journey continues....Flying from Japan's most luxurious Japanese kimono Shop to Paris Fashion Week and attending Dutch fashion designer Mart Visser's show with Marvy Rieder and Dijksman Communicatie. Let's enjoy the short break at the French bistro chair....
Spring 2015
IMAGE CONSULTANT, STYLIST, PERSONAL SHOPPER FOCUS LIST!
KLEUR & STIJL, the specialist magazine for image consultants, stylists and personal shopper, features FIREFLIES in its Spring edition. In return we love your bold statement colours for S/S2015! www.vakbladkleurenstijl.nl
March 2015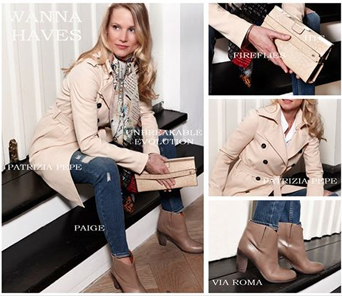 WANNA HAVES
SARTORIA Fashion beautifully styled, ready for spring! Smoking hot beige clutch by FIREFLIES!
March 2015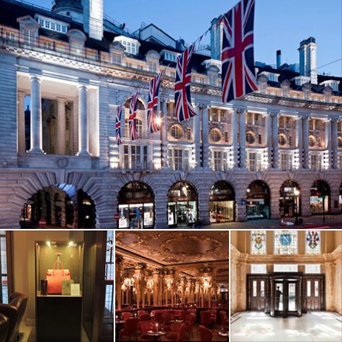 LONDON'S REGENT STREET OPEN!
FIREFLIES has opened its first LONDON sales point in Regent Street! At the renowned Hotel Cafe Royal Fireflies Amsterdam is in good company with Fabergé London Givenchy Fragrances & Beauty and Ozwald Boateng. Shop till you drop....
February 2015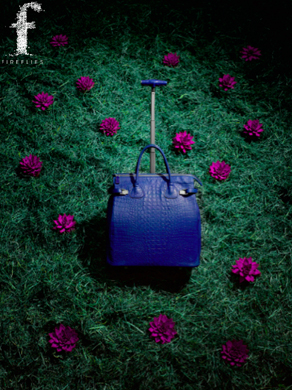 SPRING SUMMER IS IN THE AIR!
FIREFLIES S/S season has started!
January 2015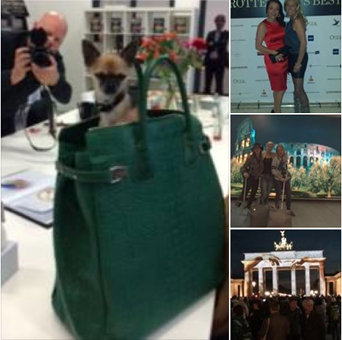 ALL AROUND THE WORLD PART 2
FIREFLIES has been traveling the early parts of the year in its global expansion. From Rome to Rotterdam's Best, from Amsterdam to Berlin Fashion Week for the renowned PREMIUM Berlin and Panorama Berlin Fashion Fairs. It's a DOG'S LIFE....
December 2014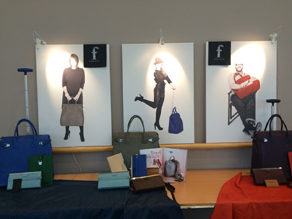 POP-UP STORE FLYING HIGH
FIREFLIES is showing at the world renowned IVP event! In line with the sustainability speech of mister Balkenende and the latest luxury lifestyle concept, FIREFLIES enjoys the good company of Oger, Schaap & Citroen, Jaguar and others. X-mas season has taken off!
December 2014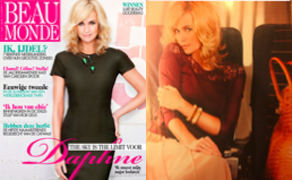 BEAUMONDE FEATURES HIGH FLYER DAPHNE DECKERS
Fred van Leer styled woman of the world Daphne Deckers, Dutch high flyer in Beau Monde's November / December edition. Special thanks to Mostert & Van Leeuwen and Azzurro Fashion Group Amsterdam, for providing Fred with the most stylish travel companion for Daphne: the Caramel Fudge FIREFLIES trolley bag. Fred you are right, it deserves its own seat! www.beaumonde.nl
November 2014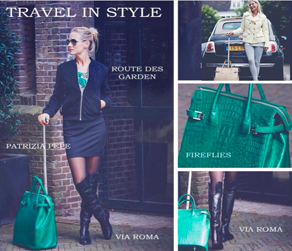 FIREFLIES TRAVELS IN STYLE AT SARTORIA DONNA
Sartoria Donna's exciting new collection has been photographed in an exhilarating shoot and is being showcased on the new website! FIREFLIES is in good company of Tod's, Patrizia Pepe, Routes des Garden, Via Roma, Etro and Rude Riders to name a few. Make sure to visit Sartoria Donna for your autumn/winter additions! www.sartoriadonna.nl
November 2014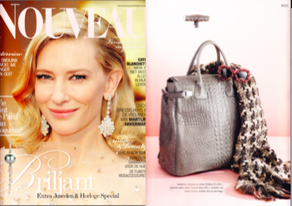 NOVEMBER'S NOUVEAU IS ALL ABOUT BRILLIANCE
The November edition of Nouveau is all about lifestyle, travel delight and adventure. From the streets of New York to the East Caribbean, Nouveau shows you how to maximize your travel experience with FIREFLIES amongst others! www.nouveau.nl
November 2014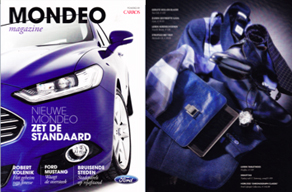 MONDEO EDITION POWERED BY CARROS
This month's Mondeo Magazine is having the blues, but in a positive way! Check out the editor's pick for the metro man of today; it's all about blue baby! The perfect company for our Royal Blue iPad cover!
October 2014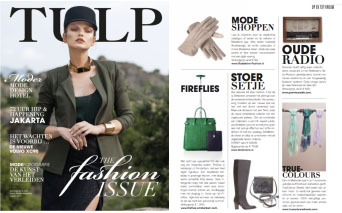 TULP MAGAZINE FASHION EDITION
The glossy lifestyle magazine for the bon-vivant showcases our FIREFLIES collection in their October edition. Amongst other Dutch design brands such as LaDress, Bron Jewelry and Truecolours Textiles, FIREFLIES takes central stage with our eco-leather collection for the fashionista-on-the-go. www.tulpmagazine.nl
September 2014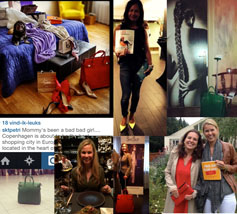 ALL AROUND THE WORLD - I
This month FIREFLIES has been traveling all other the place; from New York and the Milano Fashionweek (thanks Dijksman Communicatie) to the FAB magazine national launch (looking good Therissa Heijn from Issa Who?), from the European All Female Rotary Conference day (at Shesuit) to 'shop 'til you drop' at the Sankt Petri in Copenhagen and the book launch of 'Pas op, kijk uit' (well done Marielle Vehmeijer and Fieke Slee). And last but not least, the launch of the new signature restaurant of Schilo at The Conservatorium Hotel; Taiko. Looking forward to more adventures next month!
September 2014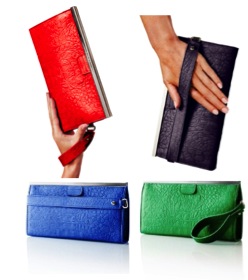 NEW! YOUR MULTI PURPOSE FIREFLIES CLUTCH!
Casually dressed or dressed to the nines? No matter what the occasion, every woman is always in need of the perfect clutch to stow away your daily life! Where else to put your mobile phone, credit card, keys and lip gloss? The new FIREFLIES clutch will turn out to be the perfect match! Handmade in Italy from our signature vegetable tanned eco leather with alligator print. You can wear this clutch in different ways; handsfree by its bracelet, casually with its pull-through band and classically without the strap. Its optimal dimensions and wide range of available colours will match every outfit, event and mood! Travel life, also with your FIREFLIES clutch!
September 2014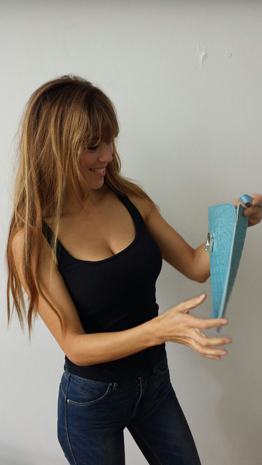 LOVE AT FIRST SIGHT!
Beertje van Beers is meeting her gorgeous Iceberg Blue FIREFLIES iPad cover for the first time…!.
September 2014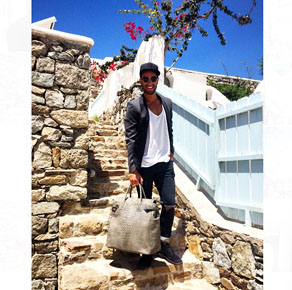 FIREFLIES GOES FORT BOYARD
This autumn the successful adventure program Fort Boyard returns, after two years of absence, on Dutch television. AVRO TROS broadcasts the new series, in which teams of celebrities have to compete against each other in the famous fortress on the west coast of France, on NPO 3. AVRO TROS presenter Lauren Verster and actor / singer Freek Bartels are this season presenters of Fort Boyard. And Lauren and Freek do not travel alone! Their FIREFLIES trolley accompanies them everywhere they go.
August 2014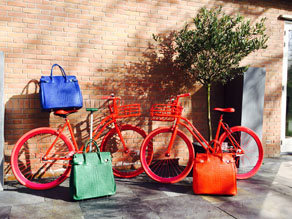 MARTONE GOES DUTCH DESIGN
For all fashionista's on the go, this is the hottest item that makes you want to cycle, sunshine or rain! Martone Cycling, www.martonecycling.com, founded in NYC, is the trusted source for simple, beautiful and reliable bicycles and bike accessories that make a bold statement of personal style. We love the match! So now we ride our company bikes 24/7!
August 2014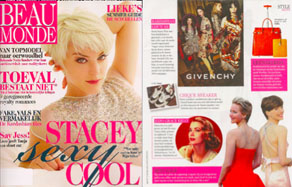 BEAUMONDE TRAVELS ECO STYLE
Patty Zomer highlights the sophisticated and stylish FIREFLIES travel bags in her column in the August edition of Beaumonde
August 2014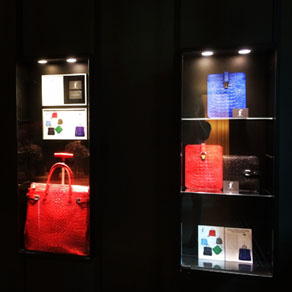 FIREFLIES IPAD COVERS AT THE CONSERVATORIUM HOTEL
The Conservatorium Hotel as part of The Set group is all about reinventing the 'grand hotels' atmosphere with their design and glamour to ensure you travel in style. To complete your stylish travel, our FIREFLIES range at the hotel has been expanded with our signature FIREFLIES iPad cover! http://www.conservatoriumhotel.com/nl/het-hotel/
July 2014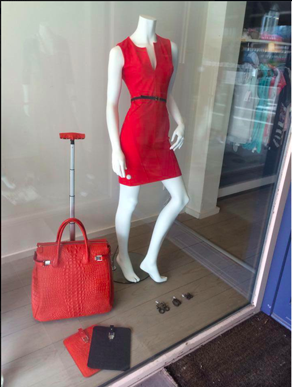 FIREFLIES NOW AVAILABLE AT LA BOUTIQUE!
La Boutique offers a variety of the the newest designer collections. now FIREFLIES trolleys and iPad covers have been part of the designer family. Available in the Brasschaat and Schilde store! https://www.facebook.com/Laboutiquefashionstoreoutlet?fref=ts
June 2014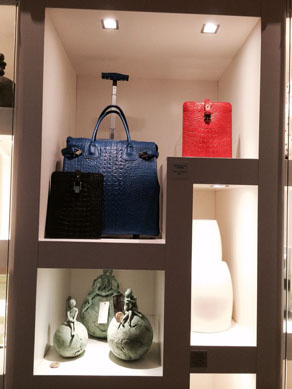 FIREFLIES NOW AVAILABLE AT THE KRUISHEREN HOTEL MAASTRICHT!
Set in a renovated Gothic monastery, the renowned Kruisherenhotel Maastricht combines the medieval outside with a wide range of spectacular designer furnishings in the inside. As of now, Fireflies Amsterdam is part of their designer items, proudly being displayed at the main entrance! What a way to travel in style! http://www.chateauhotels.nl/kruisherenhotel-maastricht/home https://www.facebook.com/kruisherenhotel?fref=ts
July 2014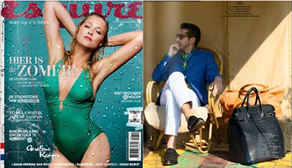 ESQUIRE KNOWS HOW TO TRAVEL IN STYLE WITH FIREFLIES
Danny Vera knows how to travel in style in this month's edition of Esquire with the enticing Geraldine Kemper on the cover.
June 2014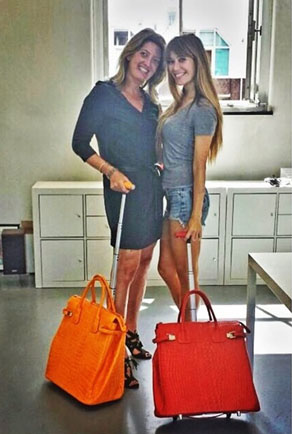 FIREFLIES AS SEEN IN SOCIAL MEDIA!
Beertje van Beers and Karin Dijksman from Dijksman Communicatie are fan!
June 2014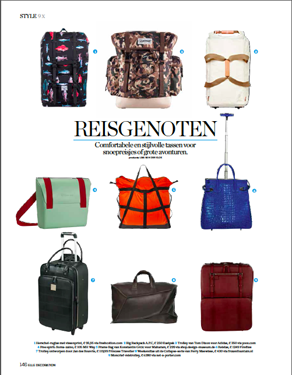 ELLE DECORATION SELECTS THE PERFECT TRAVEL COMPANION FOR THE SUMMER HOLIDAYS
ELLE DECORATION puts our bags out for your summer holiday!
June 2014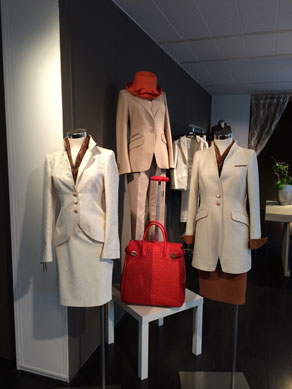 FIREFLIES NOW AVAILABLE AT SHESUIT!
Shesuit creates the perfectly fitted suit, dress, jacket or coat for every woman for any occasion: the extension of your own personality just like our FIREFLIES trolley! From the comfort of the Shesuit salon, this tailor offers exclusively designed wearable couture, made especially for you from scratch. And now you can complete your wardrobe at Shesuit with your personal FIREFLIES trolley. http://www.shesuit.com https://www.facebook.com/pages/Shesuit/115958998432512?fref=ts?ref=nf
May 2014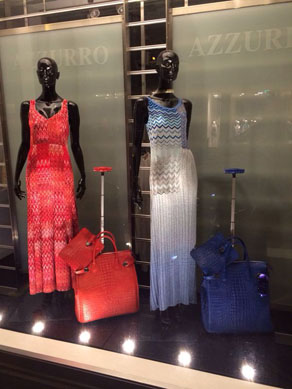 GET READY FOR SUMMER TRAVELING IN STYLE AT AZZURRO!
Mix and match the most stylish summer wardrobe with your FIREFLIES trolley and iPad cover of choice! Azzurro in the P.C. Hooftstraat, Amsterdam will provide you with both! http://www.azzurrofashiongroup.nl/azzurro/ https://www.facebook.com/azzurrofashiongroup?ref=nf
April 2014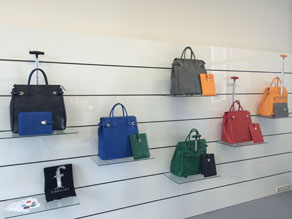 FIREFLIES FLIES OUT IN THE MEDIA!
Taking the next step in our journey: presenting our FIREFLIES Travel Collection to the media! The collection not just to travel with, but also to use in your professional life or just when carrying all is not an option. Check out our first media flights as Editor's Pick in the world renowned duty free Frontier Magazine http://viewer.zmags.com/publication/95a985aa#/95a985aa/6 and on Instagram: http://instagram.com/p/mzyRCHq0Jo/. Thanks Karin, Vivian and Floor of Dijksman Communicatie (http://www.dijksmancommunicatie.nl), for the perfect kick off!
April 2014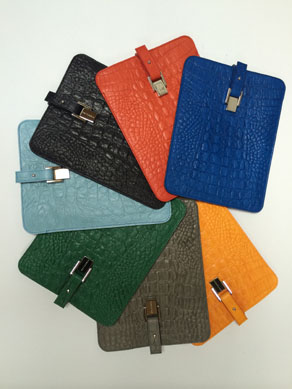 JUST NEW IN; FIREFLIES IPAD COVERS TO TRAVEL IN STYLE
Early FIREFLIES iPad adopters inspired to find new ways and reach new heights contact us at inflo@fireflies-amsterdam.com! We like to share our experiences to discover new places (wherever the destination). We hope you do the same with us. Live travelers for live travelers. That's why we are adding iPad covers to our collection: to inspire you to travel in style.
April 2014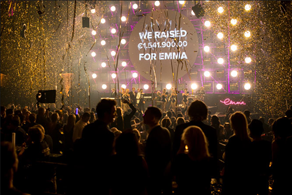 HALF A MILLION RAISED FOR 'EMBRACE EMMA'
The 'Embrace Emma' Foundation was founded by and for parents, with the ambition to raise 2 million euro for the redevelopment of the Emma Children's Hospital. The message of board member Olcay Gulsen of creative , enterprising and ambitious Amsterdam: "Let's help build the best pediatric hospital in the world together". The foundation does this by fundraising new style : fun raising. Let's party ! With the auction March 28th in the Amsterdam Gashouder, the Embrace Emma Foundation raised 465 800 euro. The guests, including many well-known Dutch, could bid on seating cards for the Chanel show in Paris, tickets for the match Netherlands - Spain during the World Cup in Brazil and a haute couture dress by fashion designer Jan Taminiau . The evening ended with a party. During the previous three editions, more than a million was raised and it's last editions will set out to gather the remaining amount. See you next year!
March 2014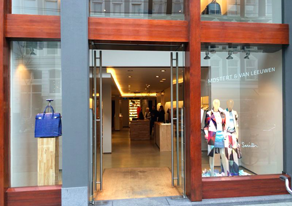 FIREFLIES; NOW AVAILABLE AT MOSTERT & VAN LEEUWEN
As of March 2014 the distinguished Mostert & Van Leeuwen portfolio of fashion items, cosmetics and designer brands is supplemented with the FIREFLIES trolley. Please check out our signature Royal Blue and other colours in the Van Oldenbarneveltstraat in Rotterdam! www.mostertvanleeuwen.nl
February 2014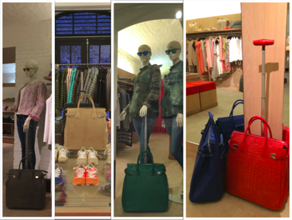 FIREFLIES; NOW AVAILABLE AT SARTORIA DONNA
Longing for Spring/Summer in your fashion outfit with the ultimate life companion for fashionista's on the go? Look no further and check out FIREFLIES at the high end fashion store of Naarden: Sartoria Donna in the Arsenaal! All colours available for a look and feel, including the Royal Blue and the Smoking Hot Beige! www.sartoriafashion.nl/sartoria-donna-naarden
February 2014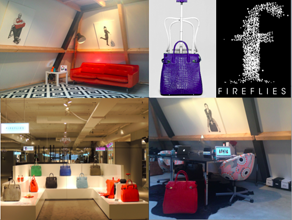 SHOWROOM IN FULL ANTICIPATION OF SS14
Are you also highly anticipating SS14? We are currently stocking up on our new collection. Check out this space for sneak previews of Mango Tango Orange and Royal Blue!
January 2014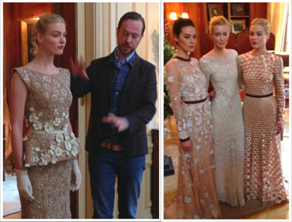 JANTAMINIAU COUTURE SHOW PARIS
January 20th, at the Dutch Embassy Residence in Paris, FIREFLIES attended the spectacular 2014 haute couture show of JANTAMINIAU. Inspired by a precious photo of Jan's grandmother, a scarf from India and the orchid flower, a mesmerizing and incredible collection was presented. Admire and enjoy like we did! www.facebook.com/media/set/?set=a.787681927912938&type=3&l=20473bcaa1
January 2014
AZZURRO IN FULL COLOUR
December 2013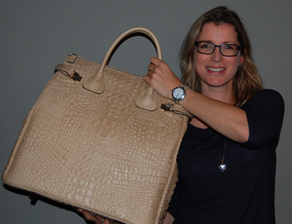 WINNER VOTE & SHARE!
The winner of the FIREFLIES AUTUMN / WINTER 2013 VOTE & SHARE CONTEST received her winning TROLLEY BAG! Leonie from Zurich, Switzerland, not just liked the SMOKING HOT BEIGE version, she LOVED sharing it with all her Facebook Friends as well! CONGRATULATIONS Leonie. We hope you travel life intensely with your SPECIAL EDITION! To all other voters & sharers: no tears! The VOTE, SHARE & WIN SPRING / SUMMER 2014 will soon be announced! So LIKE FIREFLIES, stay tuned, pick your favorite colour and shout it out! You might be the next lucky owner! http://www.facebook.com/FirefliesAmsterdam
December 2013

FIREFLIES; NOW AVAILABLE AT AZZURRO
Looking to complete your fashion outfit with the ultimate life companion for fashionista's on the go? Look no further and check out FIREFLIES at the high end fashion store of Amsterdam: Azzurro in the P.C. Hooftstraat! All colours available for a look and feel, including the Royal Blue (back by popular demand)!
August 2013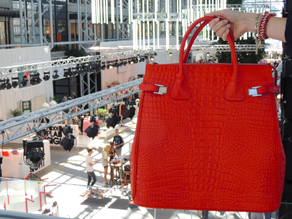 A NEW WORLD OPENS UP; FIREFLIES AT THE COPENHAGEN FASHION WEEK!
Looking for the ultimate new fashion statement and trends? Copenhagen Fashion Week is the place to be! FIREFLIES joined the madness to the full extend; fashion bloggers, media guru's and even Scandinavian television covering the latest trend in travel luggage. in short; FIREFLIES. With the Bar Rouge at Hotel Sankt Petri being the beating heart of the fashion (after) parties, our flying collection in the main lobby got it's share of eyeballs as well! With a little bit of sleep, we'll be ready for the next Fashion Week!
July 2013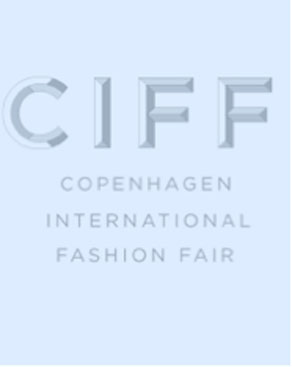 PRESENTING AT THE COPENHAGEN INTERNATIONAL FASHION WEEK: FIREFLIES!
In anticipation of coming week's opening of the 45th edition of the CIFF, a quick heads up! Copenhagen Fashion Week consists of a market week with 3 big fairs: CIFF at Bella Center, VISION at Lokomotivværkstedet and Gallery at Forum and a diverse range of fashion shows at City Hall and a myriad of different locations, as well as showrooms and events all over town. If you are around, please pay us a visit at the innovation showroom at Bella Center to check out our core collection and season colour Royal Blue!
July 2013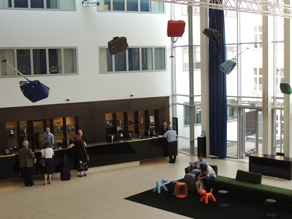 FIREFLIES TRØLLEYS ARE TO STAY IN COPENHAGEN, DENMARK!
Living up to our world wide travel expectations, we have added an exciting new point of sale to our list. As of this weekend, Copenhagen travellers visiting the Sankt Petri Hotel, will be mesmerized by our entire collection flying high in the hotel lobby. Don't forget to check out our leaflets at the front desk and enquire after our season colour Royal Blue!
June 2013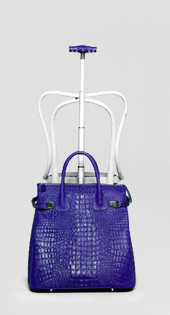 VOTE, SHARE AND WIN!
You haven't found the right colour to travel life with? Do you want to share your personal bag statement with the rest of the world? Cast your vote of your preferred colour by means of a like at http://www.facebook.com/FirefliesAmsterdam and make sure that your favourite colour is part of the next FIREFLIES Special Editions! Competition closes 31 August 2013, so be sure to vote and share before. We raffle a winning colour FIREFLIES bag amongst the voters with the most 'shares'!
June 2013

IN THE MEDIA - Instant love
This article drew our immediate attention, and clearly some of yours! This blogger is a living example of the reason why we started the business. To instantly brighten up your day and spirits. As a mood elevator. Thank you for returning the favour! :-) (http://30smagazine.wordpress.com/2013/05/18/fireflies-trolley-bags/)
June 2013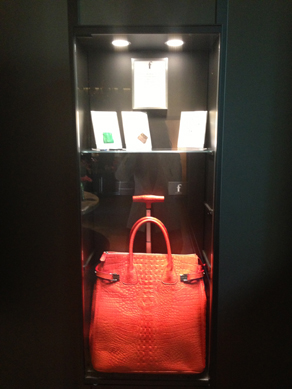 CONSERVATORIUM HOTEL- FIREFLIES are here to stay!
After the succesfull RhubArt Exhibition, FIREFLIES has found a permanent home at the renowned Conservatorium Hotel in Amsterdam. Please enjoy the welcoming glow of our red bag at the violin entrance hall! They like the music here, so have checked in for ever….Enquieries at the reception.
2 May 2013

RhubArt opening Conservatorium Hotel
From 2 May – 12 May 2013, the renowned Conservatorium Hotel serves as a pop up gallery stage for 20 original pieces of art like pictures, projections, paintings, statues and our own Rhubarb Red! Inspired by the stylish Rhubarb stem, there is literally a spotlight on our trolley. You can find our Rhubarb Red bag on your right hand side entering via the main entrance. At the hotel you will find flyers with details on all art pieces. We hope you enjoy it as much as we do!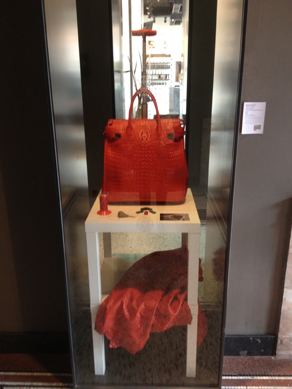 20 January 2013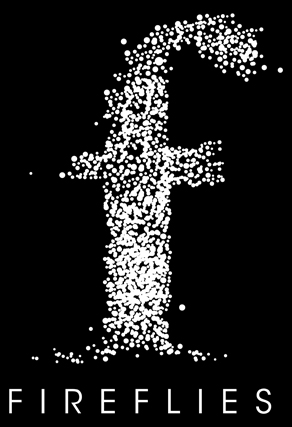 FIREFLIES are here to stay!
There is a new bag in town with a catchy name; FIREFLIES. Unusual you say? Not to us! These environmental friendly creatures, which 'travel light', are the perfect representatives of our bags; a trolley, which 'travels light and life'. On top of that, FIREFLIES is slang for 'Brainwaves': so watch this space, you'll be hearing more from us!
22 March 2013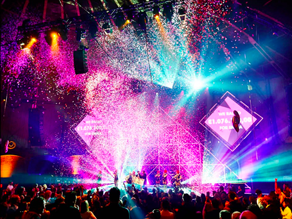 Emma fun(d) raising night
The Emma Children's hospital is in search of substantial funds to realize her goal to be the best children's hospital in the world. That's why on March 22nd a huge benefit party was organized; Emma's Amazing Fun(d) Raising Night! Together with Fronteer Strategy and Mister Kitchen, FIREFLIES was connecting people at this unique event and contributing to make Emma the best child hospital in the world. Perfect night: fun, funds and friends!
12 February 2013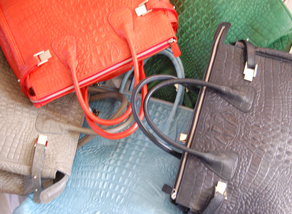 Pick your colour!
We started FIREFLIES for several reasons; fun and functionality amongst them. Most importantly, we wanted to create something that makes people smile every day; a genuine mood elevator. When it came to picking names, we followed these basic guidelines. We hope they will lift your spirits as well!
30 March 2013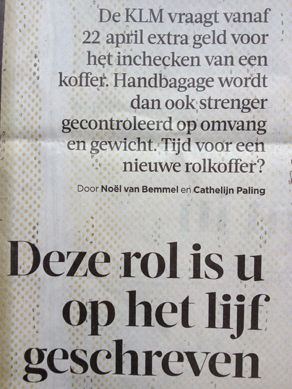 FIREFLIES fits more then ever!
Times are changing…. Latest news; pay up for your carry-on luggage! Now here is a way to fashionably stop the cabin cash cow…..turn to eco cows! Our FIREFLIES bags are fit for (cabin) purpose and made of eco leather. Please check out our collection for further features!.
February 2013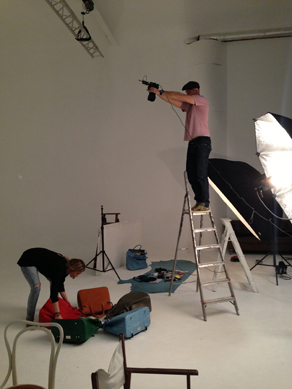 The making of.....
Working with Jasper Faber, world renowned photographer! Makes everything look great! Job well done! www.jasperfaber.com
December 2012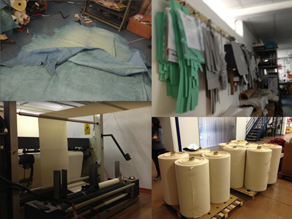 In search of excellence
In search of excellence we made it through joyous situations; nothing like the smell of real leather, our cutting frame between world renowned ones (proud!), our first production of lining and pouches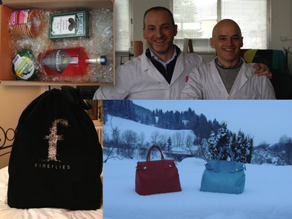 Real Dutch Christmas gifts make happy craftsmen. Resulting in our first samples! We can't believe it ourselves..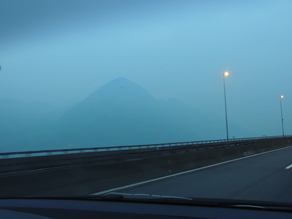 Life threatening trips; "are we in Italy yet?"
December 2012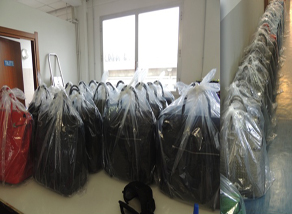 First batch!
After a challenging year, we can't hide our excitement and happiness at the sight of our first production batch. We hope you love your bag as much as we do!